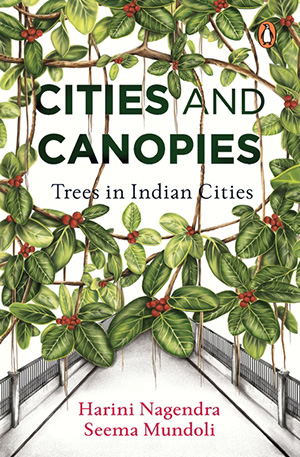 by Harini Nagendra and Seema Mundoli
Winner of Publishing Next's Printed Book of the Year Award and featuring on the Green Literature Festival Honour List.
Native and imported, sacred and ordinary, culinary and floral, favourites of various kings and commoners over the centuries, trees are the most visible signs of nature in cities, fundamentally shaping their identities. Trees are storehouses of the complex origins and histories of city growth, coming as they do from different parts of the world, brought in by various local and colonial rulers. From the tree planted by Sarojini Naidu at Dehradun's clock tower to those planted by Sher Shah Suri and Jahangir on Grand Trunk Road, trees in India have served, above all, as memory keepers. They are our roots: their trunks our pillars, their bark our texture, and their branches our shade. Trees are nature's own museums.
Drawing on extensive research, Cities and Canopies is a book about both the specific and the general aspects of these gentle life-giving creatures.
U.S. retailers:
Bookshop.org Amazon Apple Books Audible Barnes & Noble Books-A-Million Kobo
India:
U.K.:
Praise for Cities and Canopies:
"A celebration of trees, a charmingly penned paean to these great givers… I have little doubt that this occasionally idiosyncratic account, written with passion and a deep knowledge and affinity for trees, will make even those who scurry about their busy, regulated lives stop and look up at the canopies. And I think with awe, wonder, and humility."
—Hindustan Times
"A luscious romp through the fruit, fun, poetry, folk tales, history and healing properties of the trees we live with."
—Mint